What is melanoma?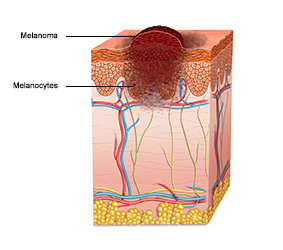 Melanoma is a form of cancer that forms in cells in the skin called melanocytes. The melanocytes make melanin, a pigment that give skin its colour. Common locations for melanoma to start are the neck, face, chest and back (particularly in men) or on the legs (the most common site for women). According to the Canadian Cancer Society, in 2014 about 3,000 Ontarians (1,700 males and 1,400 females) were diagnosed with melanoma and almost 500 died from the disease.
The skin is the largest organ in the body and skin cancer is the most common cancer in Canada. In addition to melanoma, there are two types of non-melanoma skin cancers: squamous cell and basal cell carcinoma.
Melanoma is one of the most preventable forms of cancer. If discovered early, it may also be very treatable. But wait too long and melanoma cancer can spread throughout the body.
If discovered early, melanoma is often curable. But melanoma can spread to other parts of the body. For example, melanoma can grow into the deep layers of the skin and enter the lymph nodes. Using the lymph system, the cancer can then travel to other parts of the body (i.e., metastasize). If melanoma spreads to other organs, it can be extremely difficult to treat. It's critical to:
Make changes to reduce the risk of developing melanoma
Know your skin so you can recognize unusual or new bumps or growths
The single most important risk factor for melanoma and non-melanoma skin cancer is exposure to ultraviolet radiation (UVR). By the time sunlight reaches the earth, it consists largely of two types of UVR: UVB and UVA. UVB rays are the most damaging to the skin. In Ontario, UVB is more intense in the summer, particularly between 11 a.m. and 3 p.m. UV radiation also increases with altitude and can be intensified by reflective surfaces such as water, snow, ice, concrete or sand. UVR prematurely ages the skin, causes sunburns and may result in genetic mutations that lead to skin cancer.
Risk factors you can change or control
Some of the factors that increase or decrease your risk of melanoma are things you can't change or control, such as the colour of your skin, your family medical history, or whether or not you have moles. But the single most important risk factor for melanoma is something you can change or modify: your exposure to UVR (ultraviolet radiation).
Exposure to UVR
Compared to people with little sun exposure, those who spend a lot of time in the sun have an increased risk of melanoma. Intense exposure or over-exposure to sunlight may be associated with an even greater risk of melanoma – up to 60% higher.
The amount of skin damage from UVR depends upon:
The strength of the sun's rays (time of year, time of day and where you are)
How long your skin is exposed
Personal characteristics such as eye and hair colour and how your skin reacts to UVR
Whether you use protection such as clothing, a hat, shade, sunscreen, and sunglasses
Studies have shown that frequent sunburns -- even if they occurred years ago when you were a child or teenager -- increase the risk of melanoma. You can't change what happened in the past but you can take action to reduce damaging UVR exposure in the future. Remember – whether it's sunburn or suntan, any change in the colour of the skin is a sign it has been damaged.
Tanning equipment
Tanning equipment, such as tanning beds or lamps, emit the same damaging UVA and UVB rays as the sun. As a result, people who use tanning equipment have at least a 20% increased risk of melanoma. The younger you are when you start using tanning equipment and the more frequently you use it, the greater your risk.
As well as damaging the skin, damage to the eyes can occur when using tanning equipment.
Moles
Moles (nevi) are clusters or clumps of melanocytes, the cells that produce the pigment melanin. They appear as dark patches, growths or bumps. Some children are born with moles. But in most cases, moles appear as a result of exposure to UVR, typically before age 20. Reducing exposure to UVR, especially early in life, can help to reduce the chances of developing moles.
Most moles are benign, meaning they are not cancerous. Dysplastic nevi are moles that may be larger, have more irregular shapes or have less uniform colour than most moles. Although they can look like melanoma, they are usually benign.
If the DNA (genetic material) of the melanocytes is damaged, a mole can become cancerous. People with many moles, including those with dysplastic nevi, may be at increased risk of melanoma. To catch any changes early, people with moles should be aware of their size, number, colour and appearance and look out for any changes or new moles.
Risk factors you can't change or control
Skin, eye and hair type
People who don't tan easily when they are in the sun or who have fair-coloured skin are more susceptible to UVR damage. People with naturally blond or red hair or blue, green or hazel eyes often have skin that is more easily damaged.
In the U.S. it has been estimated that the risk of melanoma is 10 times higher for white Americans than African Americans. Although melanoma is somewhat rare among people with very dark skin, they are not immune. Melanoma can occur in people with darker skin and may be harder to detect early. Even if your natural skin colour is dark it's important to protect yourself from UVR.
Immunosuppressive therapy
Immunosuppressive therapy refers to a regimen of drugs to suppress or weaken the body's immune response. This sort of therapy is often used for long periods of time by people who have had an organ transplant or an auto-immune condition such as inflammatory bowel disease (Crohn's disease or colitis) or rheumatoid arthritis. Immunosuppressive medications may make it harder for the body's immune system to get rid of unhealthy or damaged cells and fight cancer.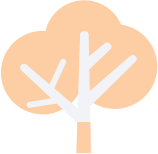 Family history
There is evidence that people with a first-degree ("blood") relative such as a mother, father, brother, sister or child with a history of melanoma may also have an increased risk of developing this form of cancer. The more first-degree relatives you have with melanoma, the higher your risk. The risk may be due to a combination of genetic factors, such as similar hair, eye or skin colour, and shared behaviours, such as tanning. There are also some rare genetic conditions that can increase the risk of specific types of melanoma.
Personal medical history
People who have had basal cell or squamous cell carcinoma (non-melanoma skin cancer) are at increased risk of developing another type of skin cancer, including melanoma. People who have had melanoma also have a higher risk of developing another melanoma. Although they are usually benign, people with dysplastic nevi (moles) may also be at increased risk of melanoma.
What you can do to protect yourself